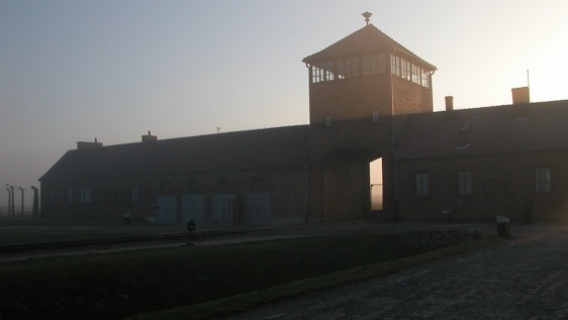 The gatehouse at Auschwitz/Birkenau
Many congratulations to Carol Hitchcock of Bedfordshire who was the first person chosen at random from the subscribers to WW2History.com who got the correct answer to the competition for June.
This question proved to be the hardest yet set: The camp at Auschwitz/Birkenau was not originally intended to hold large numbers of Jews. Who did the Nazis first think would be sent there once it was completed?
The answer was not 'Political prisoners' as most people who entered the competition thought, but Soviet Prisoners of War. This is because the development of Auschwitz/Birkenau is another example of change brought on by the war in the east. The massive extension at Auschwitz/Birkenau was designed to hold large number of Red Army prisoners of war captured by the Germans in the course of their war against the Soviet Union. It wasn't until the beginning of 1942 that that policy changed. The Soviet prisoners of war were thought to be needed elsewhere as forced labour, and Himmler decided that this was a place to send the Jews.
Congratulations to Carol, and a signed hardback copy of my book on Auschwitz will shortly be winging its way to her.