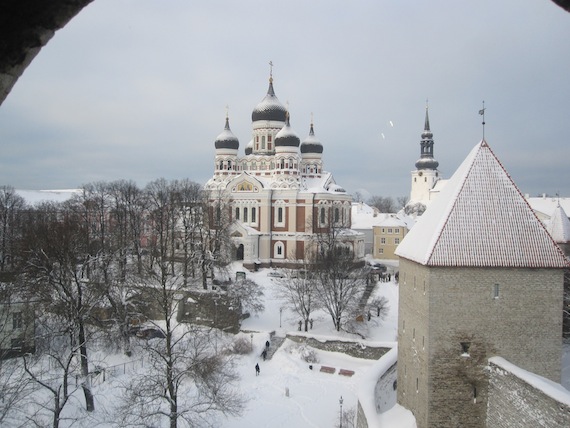 Tallinn, Estonia
I just spent a few days in Tallinn, capital of Estonia and was intrigued by the somewhat dodgy way they seem to remember their WW2 history.
The central message of the Museum of Occupation in Tallinn is clear – the Estonians were victims during the war. And to a large extent, that's correct. Estonia, along with the other Baltic states, had been granted independence as part of the peace settlement at the end of the First World War – an independence which was subsequently sabotaged by the Molotov/Ribbentrop pact.
Stalin insisted first on stationing Red Army troops in Estonia and then, in the summer of 1940, on a full scale occupation of the country. Hundreds of thousands of Estonians suffered under Soviet rule and so, perhaps not surprisingly, many Estonians welcomed the Nazis when they arrived in Estonia as part of their invasion of the Soviet Union in the summer of 1941.
Then, once the Red Army returned in 1944, the Soviet oppression restarted. Estonian culture was suppressed, thousands were deported to Siberia and imprisonment and torture were commonplace. The Soviet authorities also made a concerted effort to settle ethnic Russians in Estonia in an attempt to submerge nationalist feelings – using a similar tactic to the one currently practiced by the Chinese in Tibet.
Not until after the fall of the Berlin were Estonians finally granted their freedom. The country now is a proud member of the EU and NATO, and on 1 January this year joined the Euro. You get the feeling that the Estonians will do virtually anything to weld themselves to Western Europe – a policy that's easy to understand given the history of the country and the looming presence of the Russian giant at their Eastern border.
Which is all fine as far as it goes. But the trouble is that there is a gigantic omission from this history – which is the story of how Jews in Estonia were treated. There were around 1,000 Jews left in Estonia when the Nazis arrived and virtually all of them were subsequently murdered – and Estonian collaborators helped the Nazis commit the crime. Estonians also helped the Nazis run concentration camps on Estonian soil.
This is clearly an inconvenient history for many Estonians. When I asked one of the guides at the Museum of Occupation why the suffering of the Jews was not given more prominence in the exhibition she replied: 'This is a museum for Estonians.' And when the Estonian President visited Israel last year he asserted that both countries were 'partners' in the sense that each had endured much suffering during the Twentieth Century. Well, yes, but it was also Estonians who helped kill virtually all the Jews living in Estonia at the time of the Nazi invasion.
A plaque at the Museum of Occupation in Tallinn reads: 'The loss of memory and gaps in memory are dangerous for a people.'
Exactly.