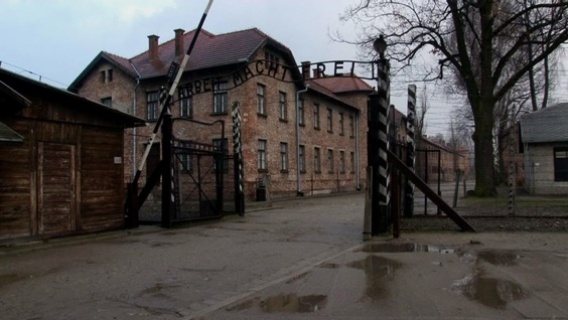 The gate to the main camp at Auschwitz, through which the sick prisoners marched.
Exactly 70 years ago tomorrow, on 28 July 1941, an event of great tragedy and great significance took place. The very first Auschwitz prisoners were selected to be gassed. But in a piece of history which symbolizes the complex history of the camp, these prisoners were not selected because they were Jews, and they were not murdered in Auschwitz, but transported back to Germany to be killed.
What happened in Auschwitz 70 years ago tomorrow was that the so-called 'adult euthanasia scheme' was implemented in the camp. In an action known as 14f13, around 500 sick prisoners – some volunteers, some selected by the Nazis – were marched out of the camp and put on a train to Sonnenstein near Danzig. They had been told that they were being sent West to receive medical treatment and be healed. But at Sonnenstein they were murdered in a mental hospital which contained gas chambers designed to look like shower rooms.
We rightly remember the enormous number of Jews who died at Auschwitz – around one million of the one million, one hundred thousand people who were sent to Auschwitz and then murdered were Jewish. But less well remembered are the others who suffered at the camp before the mass arrival of Jews early in 1942.
One Polish political prisoner, Kazimierz Smolen, watched as the sick left Auschwitz 70 years ago. 'They were all worn out,' he says. 'There were no healthy people. It was a march of spectres. At the end of the line were nurses carrying people on stretchers. It was macabre. No one yelled at them or laughed. The sick people were pleased, saying 'Let my wife and children know about me'.'
All of those sick prisoners who left Auschwitz on 28 July 1941 were murdered by the Nazis.