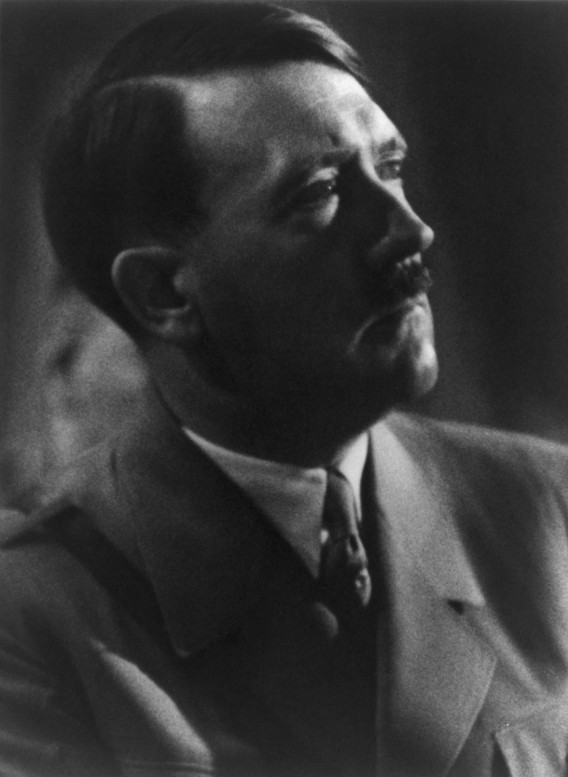 In Quentin Tarantino's recent film 'Inglourious Basterds' Hitler was portrayed as an absolute weirdo. This Hitler screams at his Generals, bangs his fist on the table and suggests that Brad Pitt's team of commandos might be ghostly apparitions. If not certifiably mad, the Hitler of 'Inglourious Basterds' certainly has more than several screws loose.
Tarantino's version of an unhinged Hitler is typical of the way Hitler has been shown recently in popular culture. It's an impression that was massively reinforced by Oliver Hirschbiegel's 2004 epic, 'Downfall'. Whilst this was an altogether more serious feature film attempt to show the 'real' Hitler – one which focused on the last days in the bunker – Bruno Ganz, who played Hitler, still shakes and screams for all he is worth. So much so that several scenes have become a kind of internet phenomenon, with different people submitting comical subtitles over Ganz's ranting.

There's only one problem with all this. Which is that Hitler, in the words of Professor Sir Ian Kershaw, the world expert on the German leader, simply 'wasn't clinically mad or clinically insane.' Yes, Hitler's personality was showing signs of disintegrating in the last days of his life – and in that respect Ganz's Hitler may not have been so far from the truth – but by focusing only on the endgame we obscure the real history, which is a much more troubling one than the screaming and sweating Hitler of popular culture allows.
Over the last nearly twenty years I've met many people who had close encounters with Adolf Hitler. And there were a variety of different impressions people took from these meetings. Some of them were distinctly unimpressed with what they saw. I remember one German veteran of the First World War, who sat close to Hitler at a café in Munich in the 1920s, saying that what he heard from the future German leader was just 'so simple' and his appearance 'rather comical'. But then I've also met many more people who – predisposed by their own political beliefs – found Hitler extremely impressive. The one characteristic that several of them remembered most clearly was Hitler's extraordinary ability to persuade people to carry on the fight even when they wanted to give up.
But what no one said to me was: 'That Hitler, he was utterly insane.' And it's not surprising that the general view was that he was most certainly not mad, if you pause to think about it. Because Hitler became Chancellor of German in January 1933 by democratic means. A large number of the German elite – sharp, clever people – decided to back him. Why would they support a lunatic? Moreover, the way Hitler conducted himself between 1930 and 1933 demonstrated that he was an astute – but wholly unscrupulous – politician. His calculations about where power really lay in Germany and how to best manipulate the emotions of ordinary Germans were extremely sophisticated.
Moreover, Hitler generated enormous – and genuine – support. His views very often matched those of huge numbers of the German population. That's something that is simply incomprehensible if we take at face value this modern day portrayal of Hitler as a screaming nightmare.
The truth is that we ourselves secretly, perhaps subconsciously, want Hitler to have been a lunatic. We want Hitler to be mad because it makes the horror of what happened during the Third Reich – particularly during the Second World War – easy to explain. It's simple, we can tell ourselves comfortably, Hitler was a madman who somehow hypnotized millions of ordinary Germans to do things against their better judgment. Well, he wasn't mad, and he hypnotized no one.
As Aldous Huxley said: 'propaganda gives force and direction to the successive movements of popular feeling and desire; but it does not do much to create these movements. The Propagandist is a man who canalises an already existing stream. In a land where there is no water, he digs in vain.' Hitler, to a large extent, 'canalised' existing German beliefs and emotions. He built on the very worst feelings, of course – hate, fear, anger – but these feelings existed before he came along. A madman could not have done this.
There was a lot of fuss in the media at the time 'Downfall' came out. 'At last,' some people said, 'we can see the Germans coming to terms with the reality of Hitler.' I thought that was nonsense.
I'll tell you when we can truly know that Germany has finally accepted the entire legacy of this terrible man. It's when a German director makes a film about the rise to power of the Nazis, and shows Hitler as a clever politician, and – in the process – demonstrates just how and why so many apparantly 'sensible' Germans supported him.  It'll be a film that shows conclusively that Hitler was not mad – but bad. Very, very bad indeed.