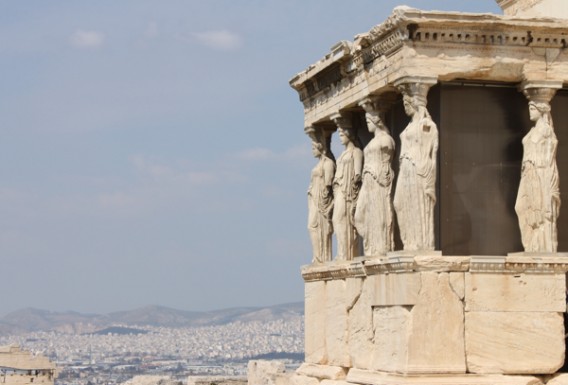 This is Athens as we want it to be.
Over the years I've met a large number of people who lived through the extraordinary transformation in the fortunes of the Nazi party between 1928 and 1933. In the elections of 1928 the Nazis gained less than 3% of the vote – they seemed an irrelevance in German politics. Yet by January 1933 they were the biggest party in Germany and Hitler was Chancellor.
'You just can't imagine how quick things can change,' many of these Germans said to me. 'One moment it seemed that everything was stable, certain, and the next the banks had crashed, the middle-class had lost their savings, there was mass unemployment, and the whole fabric of our culture seemed to be unraveling. You couldn't even walk through the parks – it just wasn't safe anymore. There was so much crime. And Hitler offered us salvation from all of that disorder.'
I thought of those sentiments on a recent visit to Athens.
Now, let me make it clear that I'm not such a determinist that I think history is capable of repeating itself exactly. It can't, because times – and people – change. And I don't think that what I witnessed of life in the Greek capital in the midst of their horrific debt crisis is identical to the situation in Germany eighty years ago. But so many of the things I saw struck a chord with the reminiscences of those Germans. There was the sight of two shop-keepers coming to blows when one accused the other of 'stealing' a customer; there was the hideous graffiti that was almost everywhere, even on the walls of the National Museum; worst of all, there was the bitterness that was so apparent on so many people's faces.
The city had changed hugely since I last visited a few years ago. There was almost a sense that the social cohesion that had seemed such a part of Greek culture was beginning to slip. I don't know where this will end – I don't think anyone does. Maybe the recent loan to the Greeks will sort matters out. Maybe it won't. Just maybe, there's worse to come.
And whilst history doesn't, I don't believe, offer any hard and fast lessons, it does offer warnings. And one of the biggest warnings of all is contained in the history of Hitler's sudden rise from obscurity to power. Because without a massive economic crisis, it could never have happened.