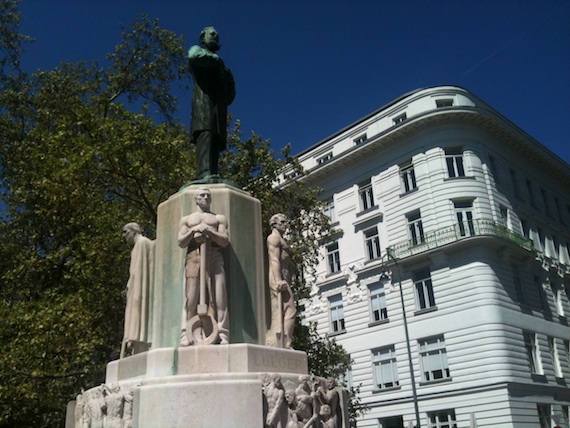 Statue of Karl Lueger in Karl Lueger Platz, Vienna
I was in Vienna a few days ago, filming for my next TV series, and witnessed Austrians wrestling with a dilemma about history that affects us all. The city authorities have just decided that a stretch of the historic inner road around the centre of Vienna which has for nearly 80 years been called the 'Karl Lueger Ring' will be renamed 'University Ring'.
Why? Well, because Lueger was not only a brilliant city administrator – he was mayor of Vienna from 1897 until 1910 and introduced social benefits like an outstanding sewage system and fresh water – he was also an outspoken anti-Semite. So outspoken, indeed, that Adolf Hitler almost hero-worshiped him.
The stretch of road currently called the 'Karl Lueger Ring' runs past the University of Vienna, and many in the university have long been embarrassed by their address. So, now, it is to be changed. But there are many other places in Vienna that still bear Lueger's name. Not least 'Karl Lueger Platz' in the city centre which also contains an epic statue of Lueger  (I was there 10 days ago and took the photo above of it). And there are no plans to remove this statue or rename this square.
This debate raises, of course, a huge question about how we see the past. To what extent can we judge the past by today's standards? Lueger was a massive anti-Semite – absolutely – but so were millions at the time, and they wanted to commemorate not necessarily his antisemitism but his 'good' works for the city. If we condemn them and remove traces of this man, then what about all the statues in London to 'heroes' of the British Empire? Most of these 19th century worthies were racists – and a number, no doubt, anti-Semites. Equally, what about Stalin's statue that still stands in Red Square by the Kremlin wall. Shouldn't we be campaigning to make the Russians remove it?
I was just watching archive footage of the Nazi take over in Austria in 1938, and the swiftness with which Austrians renamed many of their squares 'Adolf Hitler Platz' is breathtaking. Just as swiftly, of course, they renamed their streets and squares something else when they lost the war.
To a degree, it's about proportionality. Germans today do not want to celebrate Adolf Hitler. Nobody – well, only perhaps a small bunch of Neo-Nazis – wants to live on a road called Adolf Hitler Strasse. His reputation is pure black. But most others are shades of grey – like Lueger. About the shades of grey there will likely be debate and indecision – hence removing Luger's name from one street, but keeping his statue in a square. (Mind you, I wouldn't want to live somewhere called Karl Lueger Square – rather like the University authorities, I would be embarrassed to give out my address.)
But, what's important, I think, is that you have to accept that people in the past were not like us – but there is a good chance we would have been like them had we been born into their world. It doesn't mean we should necessarily celebrate today those who were celebrated then – thankfully most of us now condemn racism and antisemitism – but only that we need to be careful about imposing on people in history the values we now hold dear.