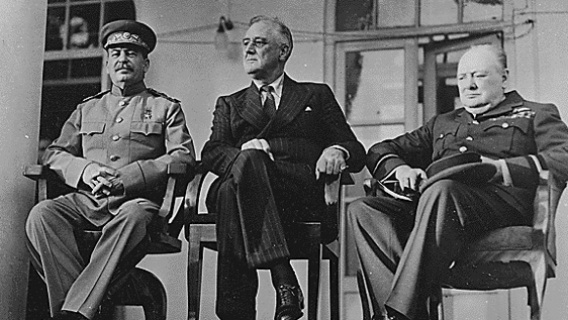 The 'Big Three' at Tehran
Today is a hugely significant anniversary – but it's also a largely unknown one amongst the general population. That's because the only one of the Allied leadership conferences of WW2 that seems to have penetrated into popular culture is the final one (involving Churchill, Roosevelt and Stalin) held at Yalta in the Crimea in February 1945.
But those people who know the history have long understood that in many ways all Yalta did was to rubber stamp a series of decisions that had already been taken at the first and most important of the 'Big Three' conferences, held in Tehran in Iran starting on the 28 November 1943 – 70 years ago today.
At Tehran Roosevelt did all he could to form a relationship with Stalin – even if it meant selling out Polish interests. (It was at Tehran that the British and the Americans agreed to give up Eastern Poland to Stalin at the end of the war, and for the whole of Poland to shift west incorporating German territory – this deal was reached in principle at Tehran without the Polish government in exile even knowing about it. They didn't discover the true nature of the betrayal of their interests until the following year). And it was at Tehran that Roosevelt pressed the Soviets to enter the war against Japan once the Nazis were defeated.
The seeds of almost all of the decisions that were taken at Yalta – decisions which many condemn today – were planted at Tehran. We should remember that.
PS I know many people would like to comment on this and other posts – especially this one, I suspect – but, alas, we've had to disable the comment section on the blog because we were targeted by thousands of spam emails, despite thinking we were protected against them.